Goddess Reign Finds Mean Girl Manor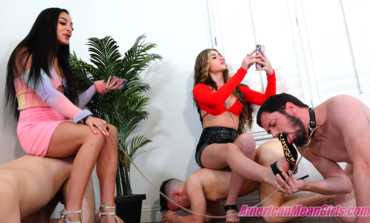 Goddess Reign has been counting down the days until her 18th birthday so that she can go film with American Mean Girls. She had started following the Mean Girls on twitter and just KNEW she would fit right in. The day has FINALLY arrived for her to do what she's always wanted to do "Get Paid For Being Hot!" . Goddess Venus opens the door with slave on leash and greets Goddess Reign.
Goddess Reign asks if all of this is actually real and is skeptical about the whole "femdom" thing. She's always been told by other people how hot she is and of course she believed them, but like can she really make old losers kiss her feet and hand over their entire paychecks? (Hahahaha she's about to find out!) Goddess Venus smiles and invites her in to show Goddess Reign what the Mean Girls are really all about!
The girls use slaves as chairs while Venus instructs fluffy to lick the bottoms of their shoes. Venus explains that she hasn't been here all that long but she has NO intention of ever leaving. Using betas is SUPER easy when you're HOT! "Even the dirt on the bottoms of my shoes are valuable because I walked on it." Goddess Reign is super excited to finally be apart of something so life changing, the American Mean Girls!
- Princess Amber
* To download this individual clip, click the "Add to Cart" button. (All clips are only $10.)PAYMENT FOR INDIVIDUAL CLIP DOWNLOADS ONLY PROCESSED VIA BITCOIN AT THIS TIME.