Goddess Tina- Her First Visit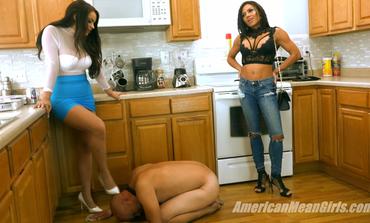 So this is my real-life cousin, Tina. We haven't seen each other in a few years, but since we both live in Vegas now she thought she'd reach out and see what I've been up to. Well, I decided to tell her the truth- that I am living the good life as a "Mean Girl" now! She didn't know what that meant, and I knew she wouldn't believe me even if I told her, so I decided to invite her over and SHOW her!
This clip is her first visit. When she walks in, she notices right away that I have some pathetic-looking naked loser over in the kitchen scrubbing my floor on his hands and knees.  when I explain to her that is "my slave" she can't believe it...so I show her! What follows is me basically degrading my bitch slave in front of my cousin to the point that she can't believe her eyes.
I make him literally bow down and kiss my feet and THANK me for LETTING him clean the floor that I walk on. I then literally WALK ALL OVER HIM! In my heels, no less- which absolutely blows my cousin's mind! Of course, after seeing me do it, she wants HER turn LOL! So I totally act like its no big deal and command my slave to let my hot cousin walk all over him too. And it is so funny, while my cousin Tina is standing on my slave in her heels, we just have a casual conversation about him like he isn't even there! Gawd, I miss her! Haha.
Then I move on to the next part of the "demo" of my slave's humiliation- I make him lick the dirt and filth off the soles of my cousin's shoes. Just to REALLY show off in front of her that I can make this pathetic fuck do literally ANYTHING I command him to do at the snap of my fingers! My cousin Tina's mind is blown...again! She can't believe this loser is THIS pathetic that he is lapping at the filthy soles of her shoes with his TONGUE!
But I explain to my cousin that there are all kinds of losers out there that you can just blatantly use and walk all over like this. We even talk about all the guys that we have rejected over the years...and how many of them we could have used like this instead of just rejecting them and walking away like we used to!
-Princess Carmela
* To download this individual clip, click the "Add to Cart" button. (All clips are only $10.)PAYMENT FOR INDIVIDUAL CLIP DOWNLOADS ONLY PROCESSED VIA BITCOIN AT THIS TIME.