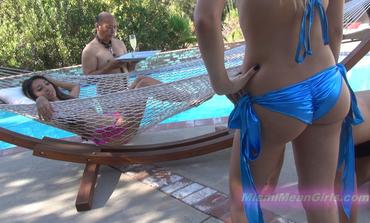 ~~I am just chillin outside in the hammock at Mean Girl Manor when Princess Cindi walks up. She is so cute. She is new here but she already has one of our big, dumb house slaves crawling behind her on the end of her leash like a dawg. It is like twice her size and twice her age- but it is COMPLETELY under the control of our new 18yr old Princess. She is learning so fast... :)
Anyways, she's upset cuz I'm using the hammock and she wants to hang out. So I suggest to her that she use her slave as a HUMAN hammock! She thinks its a great idea and puts it in position at the snap of her fingers like a champ and plops down on it like its nothing. Then we spend like 10 minutes just chatting. Poor slave starts having a bit of trouble holding her up in that painful position after awhile...LOL. Too bad. Cindi just smacks it and commands it to stay up! She honestly does not care about it. Slaves are here to SERVE and be USED as far as she is concerned! And she lets this one know it.
Cindi grew up spoiled, so coming to Mean Girl Manor and being catered to hand and foot by SLAVES now that she is 18 and old enough to own slaves is right up her alley! She loves it- and you can tell in this video!
-Empress Jennifer