Humiliation Smeared All Over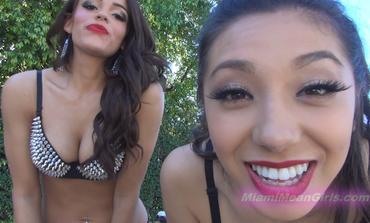 This is a stupid tranny bitch that we love to humiliate. Her name is Nadia Valentine (although Carmela and I just call her tranny bitch haha) So anyways Princess Carmela and I think she deserves a little surprise humiliation today. Carmela and I are giddy about the shhitt we are gonna write on her face- in PERMANENT marker. Then we pile on the whipped cream and throw pies in her face. This is not a fake video. This tranny bitch was really at Mean Girl Manor serving as one of the slaves for us when we were filming our other videos and we pied her and made her stay fucked up like that for the rest of the day! LOL! You can actually hear Princess Carmela order her to wear that fucking tin as a pie hat for the rest of the day!
-Empress Jennifer
* To download this individual clip, click the "Add to Cart" button. (All clips are only $10.)PAYMENT FOR INDIVIDUAL CLIP DOWNLOADS ONLY PROCESSED VIA BITCOIN AT THIS TIME.