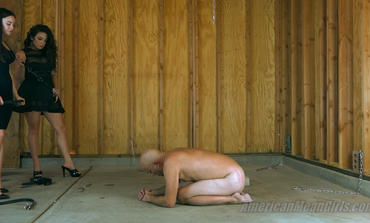 The title says it all with this one.  This is one of Princess Carmela's real life personal slaves in Vegas that she "donated" to the shoot for us to use for whatever we wanted.  So we chain him up in the garage of Our Mean Girl Desert Punishment Compound and go to town on him!  OMG it was SOOO much fun!  We didn't have to worry about any stupid "limits" and just chained him up and BEAT him! 
We actually keep adding more & more chains to him and restraining him more and more as the clip goes on.  We even have to gag him with our dirty panties to keep his screams muffled because he is such a screamer LOL.  Let's just say this bitch gets BROKEN when we were finally done with him! 
I want a new toy to play with now!!  Who is next??  Haha...
-Princess Adrianna-
* To download this individual clip, click the "Add to Cart" button. (All clips are only $10.)PAYMENT FOR INDIVIDUAL CLIP DOWNLOADS ONLY PROCESSED VIA BITCOIN AT THIS TIME.