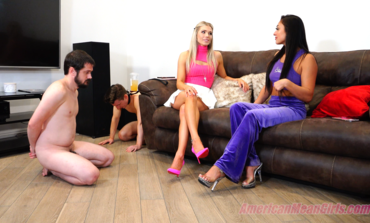 Princess Amber sits down with Goddess Venus and talks about why its OKAY to use beta males for their own personal gain and entertainment. Princess Amber uses one of her slaves to demonstrate how weak and pathetic it is, and therefore Goddess Venus should NEVER feel sorry for it AT ALL!
Betas are LITERALLY born this way, not knowing how to be an alpha male or how to please a woman like a REAL MAN. That's why they're lucky to even be in the presence of such hot beautiful women when in reality, they could NEVER get any attention from girls so hot. Being used by hot girls gives them this opportunity. So what if its not GOOD attention hahahaha, the Mean Girls TRAIN betas to accept this way of life!
Princess Amber shows Goddess Venus how even their FEET can be used to manipulate these betas into doing WHATEVER they want hahaha. Its soooooo pathetic! Goddess Venus cannot believe how easy it is to use and humilate them! She had already been humiliating men before she became a Mean Girl, but had no idea how profitable it could be!!!!! She is gonna be SO RICH off you losers!
- Princess Skylar
* To download this individual clip, click the "Add to Cart" button. (All clips are only $10.)PAYMENT FOR INDIVIDUAL CLIP DOWNLOADS ONLY PROCESSED VIA BITCOIN AT THIS TIME.