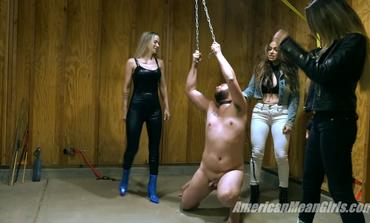 This slave admitted to us via email that it was not a member of Our site, but that it had watched Our clips for FREE on PIRACY sites!!  Well, since he was a "local", we warmly welcomed him over to the "Mean Girls Punishment Compound"...for a "free session".  (wink wink)
Little did he know that we were going to restrain him, spread his legs nice n WIDE open for Us- and then take turned kicking his balls up into his throat!!  The whole time, we are reminding him that he NEEDS to pay the "price" for watching Our clips for free on any site other than OURS!
By the end of the clip, the slave is a b100dy mess.  (Princess Carmela especially tears him apart with her ankle boots covered in SPIKES!)  Skylar's pointy-toed "money" boots are covered in the slave's red stuff- and she commands him to lick it off.  This should remind him that if he had spent HIS OWN MONEY to watch Our clips, maybe he wouldn't find himself in this position?
By the end, he is begging Us to show him mercy and promises never to watch a pirated clip of Ours again!  HAHAHA
-FEATURING:  GODDESS PLATINUM / PRINCESS CARMELA / PRINCESS SKYLAR