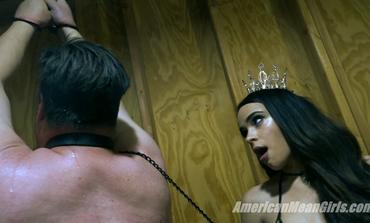 So I gave Princess Skylar one of Our house slaves to "play" with and beat on as much as she wants. Of course, I have to take my own turn and show her how badly I beat this fatass on a regular basis. She laughs her ass off at how I can do anything I want to him. Eventually we are both beating him senseless while he hangs helplessly from the rafters by his wrists. (If you look closely, you can see his hands turning blue from his circulation being cut off at the wrists haha.) Like we fucking care.
This is Princess Skylar's first "slave whipping" but she is pretty cruel about it after she gets the hang of it! And toward the end I just leave her with her "new toy" to "play with" as much as she wants. Poor slave...looks like he will be in for a long night!
-Princess Carmela
* To download this individual clip, click the "Add to Cart" button. (All clips are only $10.)PAYMENT FOR INDIVIDUAL CLIP DOWNLOADS ONLY PROCESSED VIA BITCOIN AT THIS TIME.