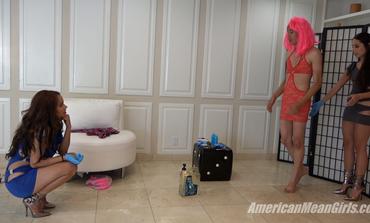 Princess Bella and Princess Carmela are training the sissy slave to be pimped out. He will be a street walking whore for The Mean Girls. They start by helping the sissy get dressed in a slutty lacy red dress. Princess Bella even helps the sissy put his bra on. Once the sissy is properly dressed they inform him it's time to start his anal training. The sissy will be fitted with his first butt plug so he can get used to having dick up his ass. Princess Bella tells the sissy they will start with a small plug and work their way up to larger and larger sizes. Princess Carmela bends the slave over and inserts the butt plug into the sissy's ass. With the plug inserted the sissy is made to practice walking with the plug in him so he can learn how to walk like a slutty street whore so men will know he is a good sissy fuck.
I really like the tone of this sissy training clip. It is supportive and encouraging yet firm at the same time. For example, when they finish dressing up the sissy Princess Bella tells the slave how cute he looks and claps her hands together in genuine excitement with a huge smile on her face. But when the sissy complains about the butt plug hurting they are absolutely firm in their resolve and Princess Carmela forces the plug in over the sissy's complaints. When the sissy practices walking with the plug in they are very strict barking out orders to sway his hips more and they make him do it over and over again until he gets it right. All the while never letting the sissy forget that the reason he must practicing walking like this is so he can attract men who will want to fuck his ass.
* To download this individual clip, click the "Add to Cart" button. (All clips are only $10.)PAYMENT FOR INDIVIDUAL CLIP DOWNLOADS ONLY PROCESSED VIA BITCOIN AT THIS TIME.