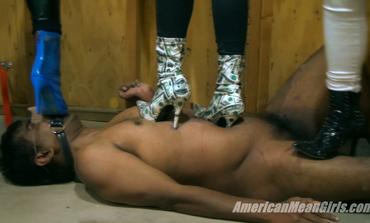 This slave has already been through the ringer.  We have caned it, bullwhipped it, and even taken CATTLE PRODS to its brown skin, shocking it into complete and total submission.  It is nothing more than a heap of flesh at Our feet at this point.  This is where most "compassionate" girl would probably let up and show some mercy?  Well, that's not Us- we are MEAN GIRLS!  
We just think its funny that we have broken him this badly and decide that it would be even more fun to STOMP ALL OVER HIM IN OUR STILETTOS!  After all, he is already in perfect position for it!
This is actually one of Our best trample videos in awhile.  Skylar literally stands FULL-WEIGHT on the slave's hand with her stiletto heel at one point- and just laughs as he SCREEEEAMS for mercy!!  HAHA.
FEATURING:  GODDESS PLATINUM / PRINCESS SKYLAR / PRINCESS CARMELA
ALSO, THIS CLIP WAS "GUEST DIRECTED" BY "HONORARY MEAN GIRL" THE BEAUTIFUL & CRUEL GODDESS JANIRA WOLFE!  :)