Tormenting the Thing Under the Table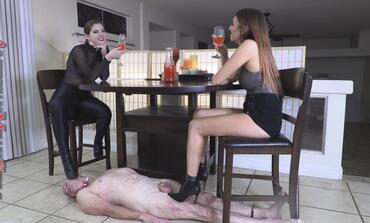 Princess Mia and I we're having a nice Sunday brunch at the Manor the other day and we even allowed a pathetic loser slave to have a place at the table with Us.  Too bad for it, that place was cuffed naked to the legs of the table on the cold tile beneath our stilleto boots. Hahahaha
While We enjoyed socializing, this loser kept making noises and squirming about so We took to reminding of its place beneath Us.  And how did We do that you might ask?  With cruelty and violence of course!
As Mia drove the spike of Her heels into its tiny worthless boy parts, I smashed its head and crused its ear with My boots.  She wanted to watch it hurt even more so took to kicking it in the nuts repeatedly which only made the old crusty thing louder so I took off My boots and shoved My perfect Size 10 feet right into the losers mouth to shut it up.  
Needles to say, it was noisy no longer.  That didn't stop Mia from trying to make it scream out again as she unleashed another torrent of kicks to its groin.  I even had a little fun kicking and foot slapping the things face as it lay helplessly there on the floor.  
As we continued to laugh and torment the thing, We finished our discussion and decided to leave it there all alone.  But not before one last round of pain that the stupid thing completely wasn't expecting.  The entire time We had hung out there were multiple candles burning on the table, so we grabbed a few of the wider column ones with loads of melted wax in them and helped the loser "WARM UP" with a little Seasonal Holiday Love from the Mean Girls... .Bwahahahah... not... 
XoXo Mistress Dandy oXoX