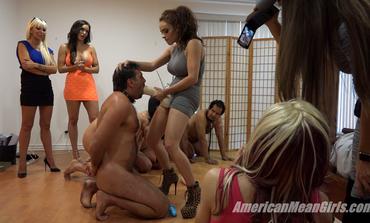 The Mean Girls have a bunch of slaves rounded up together waiting side by side in the same room. They are all naked, kneeling, heads bowed in total surrender to the Superior Sex. They are surrounded by an entire group of Mean Girls including Queen Casey, Princess Carmela, Princess Beverley, Princess Aria, Goddess Harley, and Goddess Rodea.
The kneeling slaves are being interrogated by Princess Carmela as another slave crawls into the room carrying an arm full of assorted dildos in different sizes. The Mean Girls point and laugh out loud when they see all the different dildos especially the gigantic dildo that is like three times the size of all the other ones. Princess Carmela immediately grabs the gigantic dildo (of course) from the slave and begins forcing it into the slave's mouth. The head is so wide it barley fits but Princess Carmela forces it in and face fucks the slave while everyone laughs at the ridiculous sight! Princess Carmela shows the dildo to all the other slaves watching and threatens that if anyone thinks it's too big to suck she could always fuck them in the ass with it instead!
The sissy slave is commanded to get in position on the bench. Everyone knows this means the sissy will be getting ass-fucked. But it has no choice.  Its ass is gonna be violated if that's what Princess Carmela wants.  (Literally all the slaves fear her wrath almost more than any other Mean Girl!) 
All the slaves watch as Princess Carmela grabs her strap-on dildo and begins putting it around her waist. Each of the slaves is watching knowing that any of them could be next. Princess Carmela makes the sissy slave suck her strap-on before fucking "her" in the ass. When Princess Carmela finishes fucking the sissy slave's ass her strap-on is covered in brown stuff! Incredibly Princess Carmela commands the sissy to put it in her mouth and forces her to suck it clean!
* To download this individual clip, click the "Add to Cart" button. (All clips are only $10.)PAYMENT FOR INDIVIDUAL CLIP DOWNLOADS ONLY PROCESSED VIA BITCOIN AT THIS TIME.