You Two Were Made For Stepping On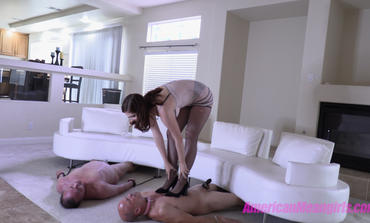 Mistress Dandy was dealing with 2 annoying ass slaves and she really wanted to torture them. The one slave had written in and begged me to allow it to come serve the Mean Girls. It did as it was told, sent a tribute, joined AmericanMeanGirls website, and then sent me the front and back of its ID. The other slave is my personal live in slave.
Hmmm.... what can she do? Ahhhh.... she can trample both these freaks. Miss Dandy is an Amazon woman, almost 6 feet tall with super sexy curves and gorgeous size 10 feet. Most males cower when they are in her presence.
Mistress Dandy restrained both slaves to each side of the couch to keep them from getting away while she crushes them under her huge, powerful feet.
Mistress Dandy wanted to see which one of her 2 bitches could take more trample use from her.
I watched and filmed as Miss Dandy took turns trampling on each of her subs. When one slave could't take another second then she moved onto the other. I was dying laughing watching Miss Dandy stomp and jump all over these two. I was so excited watching the slaves truly suffer to the point of breaking I couldn't help but laugh non stop from behind the camera as i filmed. I don't think I haver seen any slave suffer from trampling like these two did.
If you love to see slaves suffer or love trampling you need to watch this clip, If you think you could be a good little bitch and serve us then reach out to me.
-Goddess Platinum