You Want To Cum On My Feet? (POV)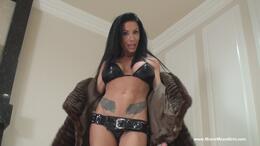 This is Goddess Randi, and that's right- I'm BACK, losers! Did you miss Me? LOL. I am back in My rightful place on MY pink throne! Plan on seeing a lot more of Me around here because I am coming back to run sh*t around here and help My mom use and abuse OUR slaves. :) We are such a mean Mommie and daughter team...LOL!
In this clip I am wearing My fur coat and HOT latex bikini underneath along with some new high heel booties some slave bought Me... I completely tease you while I sit on My throne up above you and you KNEEL before Me. I allow you to stroke for Me- in fact, I COMMAND it! But you are not allowed to cum! Not without MY permission! Eventually you beg enough and I STAND and let My fur coat DROP and fall to the floor at My perfect feet. You can hardly stand it, can you?? HAHAHA!!! You want to cum SOOOO bad, don't you, loser?? TOO BAD! I want to tease you some more!
So eventually I slip My PERFECT feet out of My leather stiletto boots - they are SOOO sweaty from wearing them without any socks! LOL! Awwww...you are going CRAZY now, aren't you??? Poor pathetic little thing... Especially since we ALL know I have the MOST PERECT FEET on all of C4S!!! I wave them in front of your face....
Do I LET you cum for Me??? WATCH THE VIDEO, BITCH!
-Goddess Randi
* To download this individual clip, click the "Add to Cart" button. (All clips are only $10.)PAYMENT FOR INDIVIDUAL CLIP DOWNLOADS ONLY PROCESSED VIA BITCOIN AT THIS TIME.
Pages