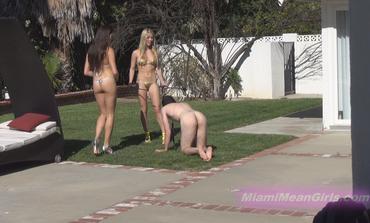 I get to film a new type of video today but apparently a lot of you guys have this fantasy to get beat up by mean girls- WHILE you are working out! And most of you are fat ugly slobs anyways, so you probably SHOULD have us come there and BEAT you into working out every day! (and pay us big bucks for our services lol)
Ok workout slave Here you go, LOL! Your about to get cropped by the hottest Mean Girls! We dont care if you cry or if we completely exhaust you by making you exercise til you up a lung! I cant decide if this is a behind the scenes video or a regular video because I have 2 cameras running on the girls. I wanted everyone to see that its me running the camera on the close ups! Haha! Does that turn you on??? To see me filming us whipping and exhausting an exercise slave?
* To download this individual clip, click the "Add to Cart" button. (All clips are only $10.)PAYMENT FOR INDIVIDUAL CLIP DOWNLOADS ONLY PROCESSED VIA BITCOIN AT THIS TIME.