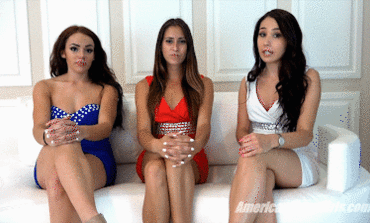 ***This is being written by the new "clip description slave" that has been commanded to watch all Mean Girls' clips and do all their writeups from now on because they shouldn't have to do their own writeups. This is how I serve because I cannot live at Mean Girl Manor.  I am to watch, review, and give a complete and fair description of each clip from a slave perspective to all potential clip-buyers before deciding to make their purchase.***
Princess Carmela, Princess Beverly, and Princess Bella talk about how a fan of the Mean Girls named slave Mack is being used as one of their production slaves. Slave Mack is the new clip description slave responsible for watching all the videos and writing the descriptions that accompany each video. The Mean Girls decided he should be kept in chastity because they didn't want him jerking off to their videos when he should be working. Then they noticed the longer the slave stayed in chastity the better and faster job he did completing each video. Because the slave writes better when he's sexually frustrated the Mean Girls decided he's not allowed out of chastity anymore unless they vote to let him out which they almost never do. Princess Bella says the slave's dick will be in a cage for at least the next month. They know it must be torture for a huge fan of theirs to have to watch every video in detail while kept in 24/7 chastity but they don't even care about that! All they care about is that it makes the slave work even harder!
The Mean Girls want even more slaves because their free time is way too valuable to do any behind the scenes work. Basically their goal is to have a nearly 100% slave labor force so all they have to do is abuse losers for fun and profit and not have to do any other work. If any other losers out there want to be a production slave they can email the Mean Girls at admin@miamimeangirls.com. The video also has the personal email addresses of Princess Carmela, Princess Beverly, and Princess Bella so you can email them directly and beg to be one of the production slaves.
This is a great clip because it demonstrates that the Mean Girls really do use slaves for everything including behind the scenes and off camera. I should know because I am the clip description slave that this video is about! I was just a fan who emailed the Mean Girls and now I work as their slave for real. If you are interested in hearing real life discussion by Mean Girls of using slaves behind the scenes or if you are interested in serving yourself then you need to buy this clip.