Telemundo's Network Slave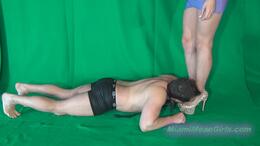 Jasmine Mendez is doing the weather in front of a greenscreen at Telemundo's studios. What the camera DOESN'T show is that there is a "gringo" grueling at her feet while she does it!
Telemundo makes so much dinero that they actually BOUGHT a "gringo slave" that they keep at the studio to serve all the hot Hispanic women on set. That is it's life's purpose 24/7. It is sort of their way of "sticking it to the man" using the power that their money has brought them. All the women hate how Mexican women are treated in this country (as maids, housekeepers, and servants) so they take GREAT delight in ABUSING this "pinch gringo", as they call him. ("white loser") They all just love the role reversal and POWER TRIP of making a white male cower and grovel at their feet!
Ms. Mendez starts by making it shine her shoes before her segment starts. She ridicules and mocks it in Spanish. (The slave is still new and doesn't even know Spanish!) She eventually starts her segment on the weather and orders the "gringo" to KISS HER FEET while she is doing her segment! (She says something in Spanish about it "calming her nerves" and "increasing her confidence" as she is about to go on TV in front of millions of people.)
During the commercial break Ms. Mendez complains to the woman running the camera about how hard the ground is in the studio. Then she laughs and decides to use the "gringo" as a sort of "cushion" under her feet for the next segment! And she doesn't even bother to take her heels off!!
Then at the end once the cameras are off, She walks over to sit on her stool just offstage and demands a footmassage from the gringo. She makes it smell her stockings and laughs at it. She says something mockingly in Spanish to it and spits in its face to remind it off its "place" in the Telemundo offices…