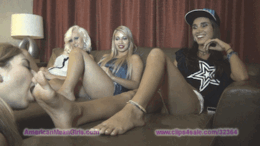 We borrowed this whore from the Brat Princess sorority house. They apparently weren't going to be needing her for awhile during the time they were on break. So we put her to use out on a streetcorner sucking COCK for us. LOL! Can you believe this bitch came crawling back to us with FIVE FUCKING DOLLARS after a full night's work??!!!??
We are PISSED and this bitch needs to learn a lesson about EARNING for it's MASTERS! So the three of us (GoddessNO, Princess Mya and Ms. Rachel) take turns making the whore suck on Our FEET like they a COCKS. LOL! She is gaging n sh*tt on our feet like the pathetic little bitch she is. We're gonna teach this whore to deep-throat before sending her back to the Brat Princess House even if it ***s her deatth in the process!
And we make sure to remind her right to her face of what an ugly WHORE she is during the entire process while she is passed around from girl to girl to USE like the worthless piece of human garbage that she is. We totally laugh right in her face.
The best part is at the end when she begs us not to make her suck cock anymore because she is a lesbian! OMFG!!! (That is the whole reason she is our fucking BITCH and does whatever we say, actually...lol.) You need to see the video to see how we react to THAT sh*tt!!!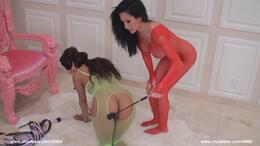 This is my daughter abusing a girl she met on set. The girl lost a slave-beating contest to Randi, so now SHE needs to become Randi's slave! (haha- bad bet on HER part! She should have known better...)
So Randi blindfolds her and beats her with a belt. She makes her bow down and kiss Her feet. And She even makes her promise to do porn for Her and suck "BBC" for Her! AND she has to give RANDI all the $$$ she earns for Her as Her SLAVE! LOL!
And the girl really sounds SO pathetic - yet adorable! - even while Randi is beating her...check out the free preview! :)
-QK
Pages